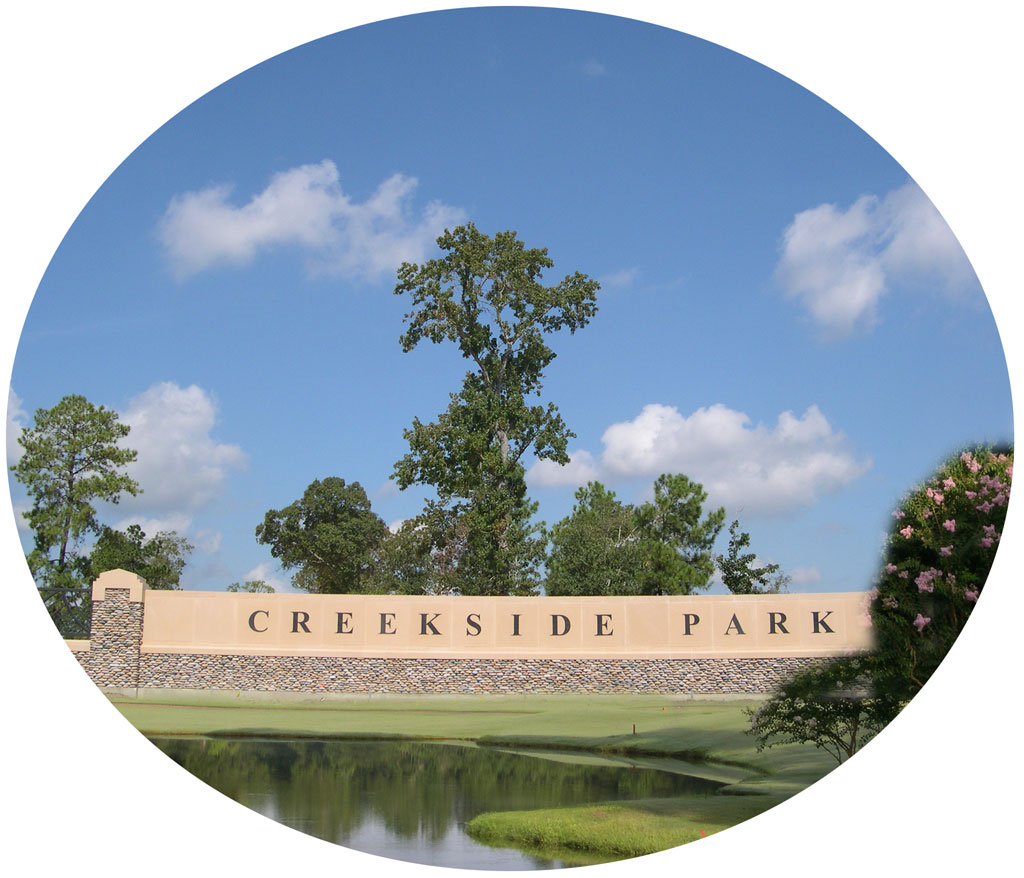 The Woodlands Village of Creekside Park
Neighborhood Information
The Village of Creekside Park is planned to be home to 7,100 new families. A mix of home styles, price ranges and homebuilders is found in the Village of Creekside Park, similar to the other villages in The Woodlands. Many of the same popular homebuilders who build in other areas of The Woodlands are building new homes in Creekside Park. New homes are currently priced from the $180's to more than $3 million.
New homebuilding is underway in several neighborhoods located off the main entrance to the village on Gosling Road and in the neighborhood of Timarron off Kuykendahl Road. Sale of new homes and homesites is also underway in the gated community of Carlton Woods Creekside, home of a Tom Fazio Championship Golf Course.
Lakes & Parklands to Discover
Vast areas of parklands, totaling 1,850 acres, along with plentiful lakes and ponds, are the highlight of the new Village of Creekside Park. Here, you and your family can enjoy hiking, swimming, fishing, kayaking and canoeing, mountain biking, birding and other creative ways to commune with nature. It's a true adventureland!
Many of the neighborhoods in Creekside Park are centered around parks or water features. A 72-acre lake and linear park, called Lake Paloma (Spanish for "dove"), extends east to west in the center of the village, acting as a scenic connector between neighborhoods. A 12-foot wide walking and biking trail will run along the banks of Lake Paloma. Major parklands include the 1,700-acre George Mitchell Nature Preserve, named in honor of The Woodlands' founder, George Mitchell, and 20-acre Rob Fleming Park, named in honor of Rob Fleming, Texas Parks and Wildlife naturalist and artist.
A Vision Named for a Visionary
Trailheads will lead from several of the neighborhood parks into the 1,700-acre George Mitchell Nature Preserve at the northern border of the village. Two trailheads leading into The Preserve – one in the Village of Creekside Park and one in the Village of Indian Springs – are now open. Miles of soft surface trails are also open for hiking and birding. The George Mitchell Nature Preserve includes seven miles of frontage along Spring Creek, and is part of the Spring Creek Greenway Project, a joint effort of Harris and Montgomery Counties to amass 33 miles of Spring Creek frontage for a bi-county nature trail system extending from US 59 to Spring.
Rob Fleming Park features a Craftsman-style Pavilion; a playground; tree-lined promenades and groves of specimen trees; a naturally landscaped one-acre lake with lakeside conservation trail; a bluebonnet meadow; a field for community festivals; a butterfly garden; and a picnic area. A wildlife sculpture trail that will be a tribute to the artistry of Rob Fleming will be completed soon.
The Woodlands Creekside Park Village Association (TWCPVA) usually meets on the first Tuesday of each month, 7 p.m. at the Creekside YMCA, 6464 Creekside Forest Drive. www.creeksideparkvillage.com
Wilde Creek
Video tour of patio home neighborhood in…
Carlton Woods – Pronghorn
Video tour of patio home neighborhood in…
Sage Sparrow Circle
Video tour of patio home neighborhood in…
$ 1,425,000
This is the home you have been dreaming of! The original owners have made this home a reso
...
$ 525,000
This cupcake of a home that is located on a cul-de-sac lot in the premier neighborhood of
...